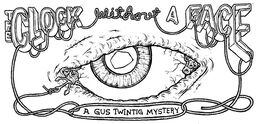 Eyes turn up in many places throughout Ternky Towers.
First Floor
[
]
Second Floor
[
]
There is a pink eye framed on the wall in the central room, by a wall fan.
There is also an eye on a warning sign next to the wall of red lasers, and another on a warning sign on one of the stall doors in the bathroom.
The camera at the entry to the laser room resembles an eyeball.
Third Floor
[
]
Hanging on a line in the dark room
On wall over tv
Fourth Floor
[
]
Fifth Floor
[
]
Sixth Floor
[
]
The hole in the plaster near the couch is eye-shaped
Seventh Floor
[
]
Eighth Floor
[
]
Drawn on a red door near the connect four game
Ninth Floor
[
]
Tenth Floor
[
]
Eleventh Floor
[
]
Twelfth Floor
[
]
A bowl of eyes and a single eye are sitting on a kitchen counter
Thirteenth Floor
[
]
One located on the item in the safe
One located on the obelisk