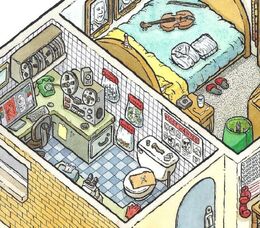 The First Floor is home to Travis Pupkin. It contains six rooms and is modeled after Roy Dodge's house. The emerald number 4 was found May 25, 2010, using clues from the First Floor.
Animated Scene From Official Website
[
]
Picture Caption: "The tape was still running"
Animation: Reels on tape recorder spin
Numbers
[
]
48 - The American Flag has 48 stars. It's a reproduction of a piece by Jasper Johns born May 15, 1930 in Augusta, Georgia.
8 - There are 8 movie reels.
The framed New York Times front page refers to the 1981 baseball strike that resumed play August 9 with the All-Star game played in Cleveland. The front page, including the headline, is accurate. It ran August 1, 1981.
Recurring Themes
[
]
Stolen Item From Another Floor: The missing zucchini from the Eleventh Floor should be here. It could be the wrinkled thing on the fireplace mantel or it could be a reference to the portrait of Missy Elliott who has an album named "Black Beauty" (a variety of zucchini). But it seems more likely that the zucchini (from 1983) is in a jar lying on a shelf on the Eighth Floor (with a greenish leak underneath). Instead, the red and blue boots (with wire in sole) between the desk and the blackboard on the First Floor are most likely Munari Bakula's anti-gravity boots.
Missing Item Found On Another Floor: The missing magnifying glass is on the Third Floor, but there is also a magnifying glass on the Eleventh Floor.
Pink Doughtnut: Halfway along the lower left wall next to the corkscrew
Eye: On front door, book on the desk
Cleaning equipment: dishrag on sink
Cereal: Is that a bowl of cereal on the table in front of the butterfly case?
Clock: Grandfather clock next to butterfly case (2:30 or 6:10); mantel clock over fireplace (1:55? 11:05?).
Leak:
Ladder: Drawn on chalkboard.
State - Highway - Mile
[
]
A copy of The Clock Without a Face can be seen on the Fifth Floor. Residents Vera Mazel & Josie Grey are self-described puzzle people. When discussing the book, Vera asks for help saying that she had found the state and the mile, but can't find the highway. This has lead to the speculation that each buried number can be found by deducing a state, highway, and mile for each floor using clues found on each floor. The following section can be used for documenting any speculation as to which state, mile, and highway to which this floor may hint.
State
[
]
Final Solution:
Virginia -- The three photographs on the wall are Thomas Jefferson, Dave Matthews, and Missy Elliott. All three have ties to Virginia.
Past Thoughts:
The 48th state is Arizona.
Highway
[
]
Final Solution:
I-81 -- From the newspaper headline dated 1981
Mile
[
]
Final Solution:
262 -- The number 262 can be seen on the paisley rug.
Emerald Number Found
[
]
References
[
]
External Links
[
]
Hit Contests Forum -- First Floor
Disobiki -- Ternky Tower Floors